The Orchard Foundation has been awarded a five-year, $2.5 million U.S. Department of Education grant that will be used to transform two Title I Avoyelles Parish schools – Simmesport's Riverside Elementary and Plaucheville Elementary – into full-service community schools. The grant was recognized locally on February 9 during official announcements at both schools with community leaders and project partners in attendance.
Community schools meet the unique needs of the neighborhoods they serve by leveraging local nonprofit, private sector, and agency partnerships to bring services into school buildings. This includes services such as high-quality tutoring, health, mental health and nutrition services, and high-quality early learning programs, among others, for students and the community. Studies have found that well-implemented community schools can lead to improved student and school outcomes.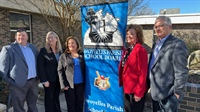 The Orchard Foundation grant was one of 42 Full-Service Community Schools grants announced in January. This year's grant competition was the largest in the history of the program.
"The Orchard Foundation is honored to be a recipient of one of the U.S. Department of Education's Full-Service Community Schools grants designed to increase social, emotional, mental health, and academic support for students, educators, and families. I am proud to say that our award is the first in Louisiana through the Full-Service Community Schools program. Through our partnership with the Avoyelles Parish School Board, we look forward to the opportunities that will be created through this funding in the communities of Plaucheville and Simmesport," said Marjorie Taylor, Executive Director of The Orchard Foundation. "We know that schools are the heart of our communities, and by transforming these two elementary schools into Full-Service Community Schools, the collaborative practices will lead to improved student and school outcomes. We are excited about the opportunity to bring together partners in this community to deliver pipeline services to students and their families."
The Orchard Foundation grant will fund the Avoyelles Parish Lifting Up Students (APLUS) project, which includes conducting a broad-based needs assessment, building relationships with partners and fostering community engagement, and hiring a full-time coordinator at each school site to leverage the findings of the needs assessment and steer the project's implementation.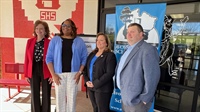 APLUS project goals are to provide in- and out-of-school support for students, address well-being, and address out-of-school barriers to learning through partnerships; provide expanded and enriched learning time and opportunities through evidence-based strategies; bring parents, families and community members into the school by making the school a hub for services, providing centralized supports for families, and offering adults desired educational opportunities; and build a culture of professional learning, collective trust, and shared responsibility for each community school.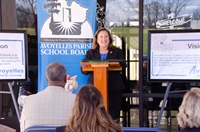 "We are so excited to be a part of the APLUS school-community grant for Plaucheville Elementary and Riverside Elementary Schools. This grant directly supports our vision of developing partnerships to provide innovative opportunities for our students, families and communities," said Avoyelles Parish Schools Superintendent Karen Tutor. "We are sure this grant will give Avoyelles Parish Schools the structure to build creative, supportive, comprehensive services for our families in these communities. This grant will encompass student support services, enriched learning opportunities, family and community engagement activities, and collaborative leadership practices. We expect it to be an opportunity to include our students, families, staff, and our communities in fun, supportive, learning activities - learning opportunities for all of us. In turn, we expect our students to gain the confidence and foundation to be more successful and dream bigger dreams for their life. This is such a great opportunity for us! Avoyelles Parish Schools will definitely benefit from this partnership with The Orchard Foundation and we are delighted to be a part of the APLUS transformation into full-service community schools."